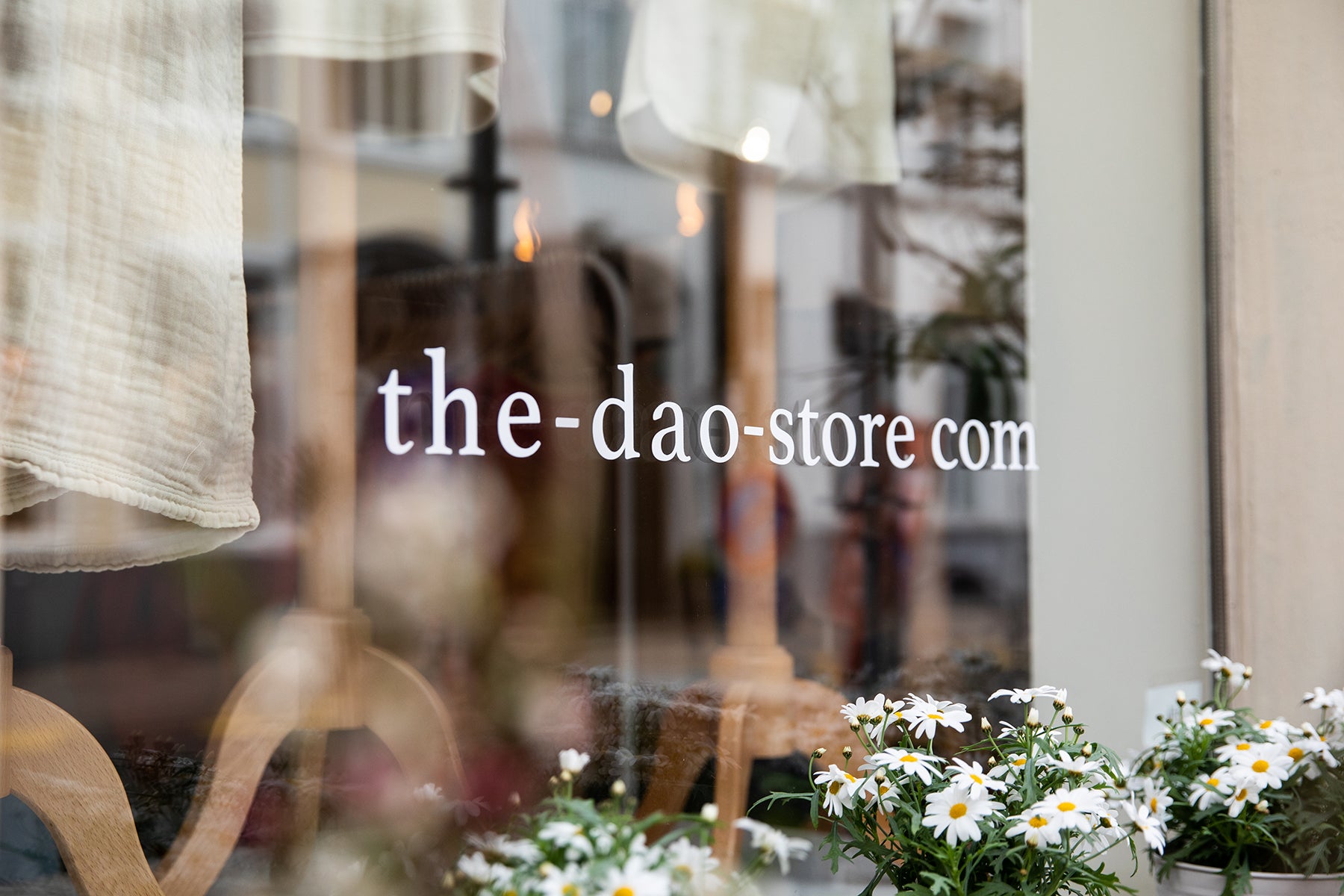 Frequently Asked Questions
Over here you can read most of the answers to your questions.
Do you have another question that is not listed below?
Don't hesitate to contact us.
Always happy to help :-)
the dão store
Of course! We are happy to welcome you at our flagship store in Ghent where you can find the entire collection and we will help you with the fitting and selection of your favourite items.

We started there as a pop-up store in 2021, and expanded later on.
Fit and sizing
Our sizes go from XS to XL and correspond to the following European clothing sizes:

34 = XS
36 = S
38 = M
40 = L
42 = XL

In case of any doubt, please contact us. We are happy to assist you in selecting process of the right size for your favourite item.
Of course! The fastest way to exchange your new size is to order a new product today and return the original product within 30 days of purchase. This way you will receive your product quickly and there is less chance that it will be sold out. 
The return label can be purchased on our return portal. But for the new order you will place - to exchange the goods - you can mail us at info@the-dao-store.com and we will gladly provide you with a code that will offer you free shipping at checkout. Like this we split the extra shipping/return costs :)

You can also return or exchange your items at our flagship store. We're happy to offer some help with the fitting.
If an item or size you want to order is no longer in stock, you can leave your email address on the page of the relevant item by clicking on the size in the 'Notify me'-field.

You will be emailed immediately as soon as the item is back in stock.
Sustainability
If you take good care of your clothes, you will also enjoy them longer. Read our tips on how to treat your precious dão garments below.

Our first, most basic garment tip is wash your clothes inside out and with similar colours. This prevents colours from other garments leachin into your precious white sweater. Washing inside out helps keeping the fibers in good shape.
Also, if you decide to wash your garment in the washing machine, always follow the washing instructions as stated in the label.
Keep in mind these general washing instructions:
- wash at low temperature (max 30 degrees)
- use a good detergent
- do not use too much detergent because your clothes will wear out faster
- your clothes are better protected in a laundry bag
-always wash clothes with beads or other embroideries in a laundry bag
Wore it once? Let it air. After wearing, let the garment air immediately on a hanger. Preferably outside or near an open window. This way all the odors disappear quickly and your clothes are nice and fresh again. Hanging the garment in the bathroom while taking a shower is also a good option (sort of dry cleaning).

Child labour is a serious issue in high fashion textile production. By producing in Portugal, Europe, we can guarantee that EU labour standards are respected and therefore the production of our clothes involved no child labour or exploitation.
Dead stock means a fabric that is not sold or used after being ordered by a clothing brand. It's the material that is left over. dão does not produce dead stock, but we like to make use of it.

Dauwke personally handpicks and selects superior quality deadstock fabrics and integrates them into the dão collections, giving new life to dead materials.

Why [over]producing when there's so much beauty left to get inspired by?
Loyalty program and promotions
You can sign up for our newsletter at the bottom of our website or on this page. By signing up for our newsletter you will receive the latest news about styling, new collections, exclusive promotions and much more.
So happy you want to join our dão tribe :-) We are happy to welcome you.

You can become a member by simply creating an account on our website.
When you do this, you instantly receive 100 points as a welcome gift from us to you! Do you already have an account - as you are a loyal customer :-) - then you are automatically a member of the dão tribe and you'll find the first 100 points in your account!

As soon as you are a member, you start saving points with every order you place, which in turn you can exchange for a discount on your next purchase.

The discount will be divided over all articles that are bought with the shopping discount in that specific order. Please note that this discount is not refundable when returning items of this order.

You can read all about our loyalty program and how to redeem your shopping vouchers on our the dão tribe loyalty page.
In January and July, regular sales start in Belgium. We get how nice it can it be to finally score your favourite outfit with a nice big discount, really :-) Only, there's something not right about it when designing, creating and selling slow fashion.

We invite you to read more about our reasons and concerns in this blogpost.
That's a bummer. But unfortunately, we can't. Sales actions are always temporary and discounts are not applicable to articles that are already bought before the start of the action.
Ordering
To place an order you don't need to create an account. You can enter your details during the checkout process and the order will be sent to you.

However, there are advantages to creating an account.

Your address details are saved, so that you can get started faster with your next order. You also have more insight into your previous orders and get access to our loyalty program to save points for each purchase.
Once an order has been completed, it is no longer possible to add an extra item, change a size or make another change. In this case a new order will have to be placed.

However, you can send us an email at info@the-dao-store.com right after you placed your order. We will try our best to make the adjustment needed before sending the order your way.
You can pay by credit card (mastercard, visa, american express), maestro, bancontact, union pay, ideal, apple pay, google pay, paypal and gift card.
The discount code must be entered under the heading

gift card or discount code.


Only in this box the discount code works. In addition, pay close attention to the conditions that apply to the discount code. If it still does not work with adding the discount code, please contact our customer service.

The code of the gift card must be entered under the heading

gift card or discount code

.
It is important that you copy the code from the email, because a 'zero' can be seen as the letter o and the letter 'i' can be seen as an 'l'. Make sure that there is no space before or after the code. If it still does not work with adding the code, please contact our customer service or have a look at the giftcard page.
Delivery
Yes, although our flagship store is based in Ghent, Belgium, we ship all over the world! :-)

These shipping costs will apply, and will be added at checkout:

Belgium: Pick-up Point: 5 EUR -Home delivery 6 EUR
the Netherlands: 7 EUR
France, Germany, Spain, Austria, Luxembourg 10 EUR
Other EU countries: 14 EUR
Other countries outside the EU: 25 EUR
Countries outside Europe 36 EUR

We offer free shipping for orders over a certain amount, also for orders places overseas:

Belgium, the Netherlands: free shipping for orders above 75 EUR
France, Germany, Spain, Austria, Luxembourg: free shipping for orders above 100 EUR
Other EU countries: free shipping for orders above 150 EUR
Other countries outside the EU: free shipping for orders above 200 EUR
Countries outside Europe: free shipping for orders above 300 EUR
Of course! You will receive an order confirmation from us immediately after placing your order. When the package has been collected by our delivery partner, you will receive an email from them containing a track & trace code. With this code you can track the status of your package and see what time it will be delivered to you.
The delivery date depends on where you are and when you placed your order. Delivery details will be provided in your confirmation email.

Our flagship store is based in Gent, Belgium. Orders to Belgium, placed before 15:00, will usually be delivered the next business day.

Every business day [except from Monday, our closing day] packages are picked up by our delivery partner around 15:00. Orders placed on Tuesdays ➞ Fridays can arrive the next business day.

Orders placed during the weekend or on Mondays, will be handed to our delivery partner on Tuesdays, so will take a little longer to arrive.

Overseas deliveries may take 7 - 16 days.

During busy periods it may take a little longer, we ask for your understanding.
Extreme care is taken in the development, quality and implementation of the dão products and services.

Unfortunately, it can always happen that something has gone wrong, resulting in an item being delivered damaged or incomplete. If this is the case, you can contact customer service and we will make proper arrangements.
No, unfortunately you cannot change it yourself.
In order to deliver your order as quickly as possible, we will immediately get to work.

You can send us an email at info@the-dao-store.com to make this request, and we will try our utmost to help you, but we cannot promise we can change it.
Returns
We exceptionally offer free returns for orders placed between 9/11/2023 and 19/11/2023.

You can find the according instructions and procedures on our Returns page.
Of course we want you to be happy with your dão purchases.

If that is unfortunately not the case for any reason, the item can be returned to us within 30 days of placing the order. The product must be unworn and undamaged and (as far as possible) packed in the original and undamaged packaging.

You can find all return instructions and procedures on our Returns page.

Let's be aware of the impact the fashion world has on our environment. Together we can make a difference. Make more conscious choices, shop smarter and return less.

For this reason you cannot return for free and you are responsible for the return costs of your package. The costs depend on the shipping method you choose. You can read all about it ons our Returns page.

However, you can return your items for free in our flagship store in Gent and maybe enjoy our beautiful city :-)
In the track & trace email you received from your order, you will find this link to request a return on our platform.

After filling out your postal code and order number, you can indicate the items you want to return. On the platform you can also check the time remaining for you to return the goods.
As soon as your return has reached us, everything is carefully checked right away. When everything is approved, the refund will be processed on the same account/card you originally made the payment with immediately. 

For returned outlet/last chances items you will get a store voucher.
Further questions?
You can contact us through our contact page or the chat in the lower corner on the right. We are happy to assist you!