THE SOUL BEHIND DÃO
How one brand transformed into another
Hello!
My name is Dauwke. I am the founder and designer of dão - formerly known as mundo melocotón. I was born on an early morning in March 1981 in Zaragoza (Spain). I am a mother of 3 wonderful children and have been in love with Jan for more than half of my life already. Since day 1, creating has been inevitable for me. As a child I was passionate about drawing and dancing, as a teenager about theatre and books, and in my twenties I filled my evenings with turning pots, restoring furniture, drawing patterns, sewing and many more creative pursuits.
When our eldest son was born, I regularly sewed practical things for him. What started as a passion grew into a full-fledged brand of sustainable clothing and textiles for babies, children, women and men, which I'm very proud of. What started from my own inner world, dão (formerly mundo melocotón) will soon be 14 years old, and it's still evolving with me as an entrepreneur, as a mother, as a woman.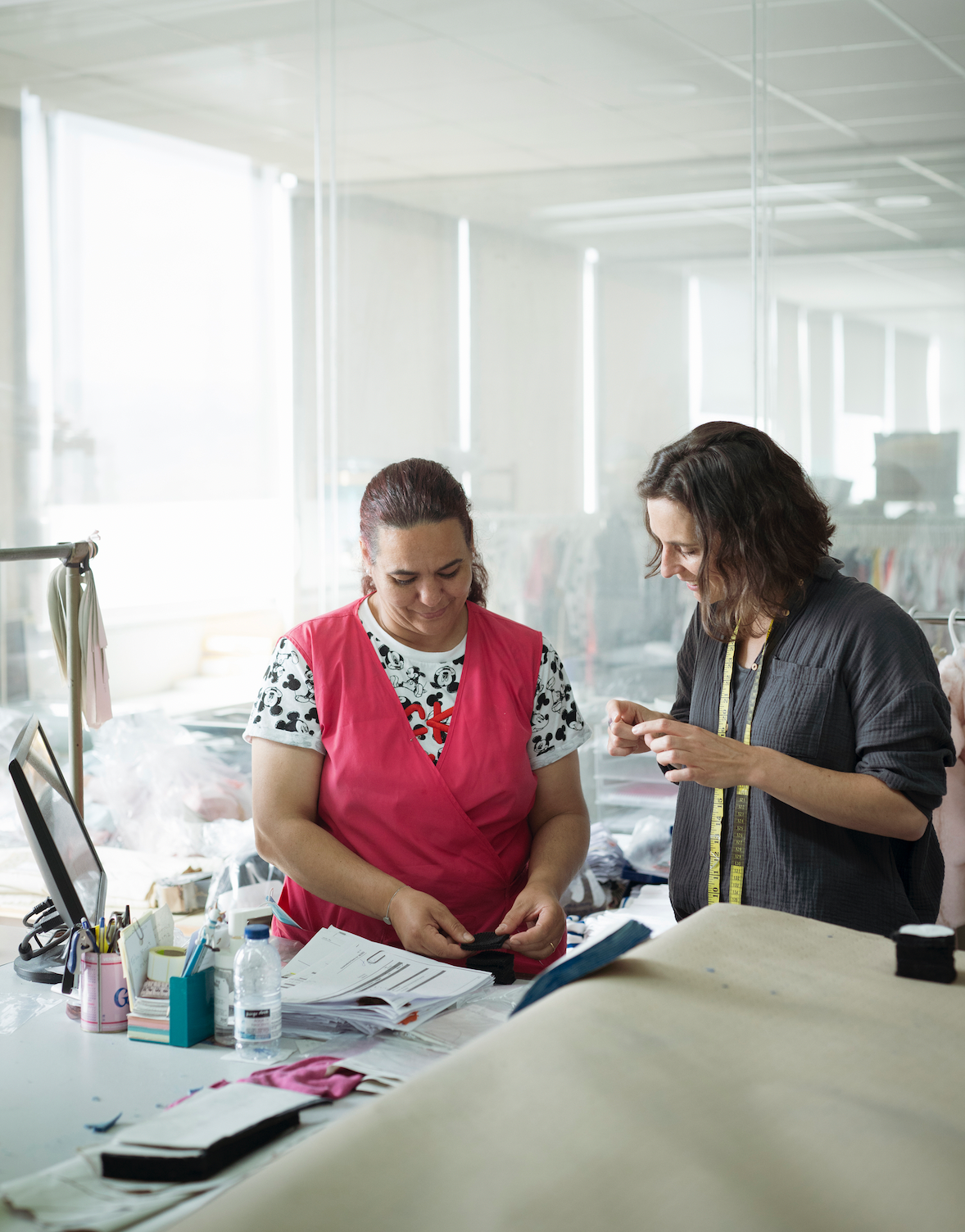 I have always lived with my feelings as my main guide.
What and how I feel has always been an integral part of my business too. It's my mission to help you feel good in your dão clothes. I want you to enjoy the soft sustainable fabrics they're made of, so you can feel confident and aligned with yourself. And while you are wearing the clothes I designed, you can rest assured that all people involved in our brand are treated respectfully and fairly: from the people dyeing our fabrics in Portugal, the seamstresses assembling everything, to the girls helping you in our store in Ghent). I hope that, as a dão customer, you can experience the same appreciation for every person or part of our brand!
Over the past years, the company has been able to grow alongside me and my personal life. Recently I realised that it was time for some big steps towards a new path. I decided to leave our baby & home collections in the past, to bring more focus to our women's wear. After changing course like that, I felt it was only right for the brand name to be more aligned with myself, as the founder and designer. So I said goodbye to our old name mundo melocotón, and embraced a new one: dão. Referring to my own name Dauwke, dão draws my brand even closer to me as a person and as a designer. And coincidentally or not, it turned out to be Chinese for a new road, a new way of life.
Although I find this new path super exciting, it also gives me tingling adrenaline. I officially give myself permission to be proud of my work, by giving it a more fitting and personal name. I am ready to stand firm in my own light, and the company name now also reflects that. And mmm - that feels surprisingly good! Despite the new name and look, the style and vibe of our clothes remain the same, because they fit me perfectly. ;-)
I wish for dão to be the clothing brand in which you feel good.
Kind regards from a very happy Dauwke x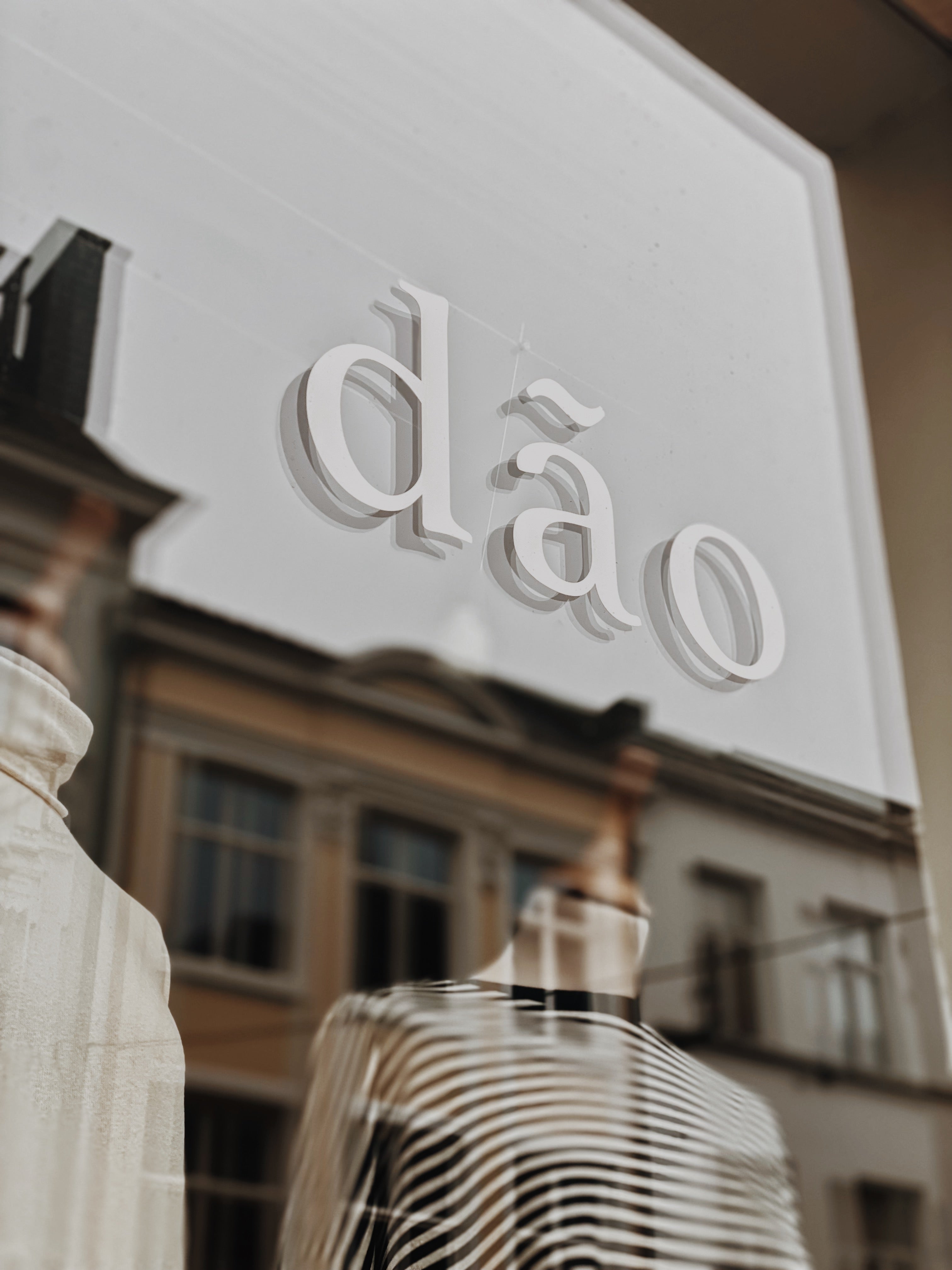 Why I love making clothes for you to love
In Belgium there is a saying: "If you want to be beautiful, you have to suffer." It's something that couldn't be further from my own beliefs. With my collections I want people to feel comfortable, at ease and pretty at the same time. I want your clothes to be in harmony with how you feel. In line with your mood of the day. So I love the idea that I can make sure you find that sweater that feels like the reassuring hug you need on a cosy cocooning-like day, or that I can design that dress that makes you feel elegant, feminine and powerful and completely in line with yourself.
Creating beautiful things is what I love most. I can't explain why, it's just something I need to do.
I am very sensitive and easily distracted by uncomfortable things, clothing included. That's why, at dão, we are very big on using the softest, most comfortable fabrics possible. We only use materials that feel great on your skin and all our labels are scratch-free and soft. Our designs will make you feel good in your body,while also allowing you to live the (active) life you want to.
I love love loooove hearing your feedback! We get exciting messages on the daily, telling me that our clothes feel like a cloud, that you make sure to wash your dão clothes first so you can put them back on soon, that your kids love their dão pieces and never want to take them off,... It's so amazing to spread my love and receive it right back from you!
Discover our new collections